KISS TOURDATEN EUROPA 2017

29. März 2017
KISS - LOST SCENE FROM WHY HIM? MOVIE NOW STREAMING

WHY HIM?
Der Film "Why him?" (mit Kiss) ist nun auf Blu ray und DVD erhältlich (auch auf deutsch)!

[Deine Meinung]

28. März 2017
DESTROYER PROMO DISPLAY
Ein Destroyer Promo Display mit Verpackung ist momentan auf eBay gelistet. Die Bieterschlacht ist eröffnet.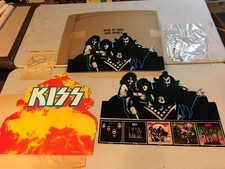 Three Sides Of the Coin Podcast #222: Klassik '78 the Album KISS Should Have Recorded

INTERESSANTE BEENDETE KISS AUKTIONEN AUF EBAY
Woche für Woche ist es spannend zu sehen, für welche Summen so manche Artikel weggegangen sind. Hier wieder eine Zusammenfassung der interessantesten beendeten Kiss Auktionen letzter Woche auf eBay:

Unmasked CD Box Set Japan: $ 630,-




Donruss Box 2nd series: $ 500,-




Gürtelschnalle: $ 424,-




The Originals LP Japan: $ 387,-




Best of Solo LP Südafrika: $ 327,-




Rockstics Set: $ 350,-




Mardi Gras '79 T-Shirt: $ 300,-




Gürtelschnalle: $ 256,-




Gene Kugelschreiber: $ 189,-




The Singles LP: $ 209,-




Mehr interessante beendete Kiss Auktionen: siehe weiter oben
die teuersten beendeten
Auktionen >>
most interesting
Auctions >>
.

THE ELDER COMIC
Am 16. Mai 2017 erscheint ein "The Elder" Comic. Bei Amazon kann man schon einen Blick hinein werfen.


GENE SIMMONS LOOKING FOR OPENING BAND AT WIZARD WORLD CONCERT

Legendary Rock Icon & KISS Frontman Gene Simmons Wants You To Open For Him At Wizard World St.Louis
[Deine Meinung]

27. März 2017
KISS ON TOUR 1983 - 1997
Bei Amazon gibt es nun auch ein Buch mit allen Tourdaten und dazugehörigen Infos aus den Jahren 1983 - 1997 (370 Seiten).
Mehr Infos dazu hier.


MUSIC LIFE SPECIAL 1977
Die Neuauflage des japanischen Music Life Specials (ursprünglich aus dem Jahr 1977) ist bei CD Japan für knapp 21 Euro erhältlich.



Paul Stanley hat sein Tattoo nachstechen lassen
[Deine Meinung]

25. März 2017
GENE SIMMONS TALKS UPCOMING SOLO SHOWS – "THE IDEA IS TO DO STUFF THAT YOU WOULD NOT ONLY GET FROM KISS BUT STUFF YOU WOULD NEVER GET FROM KISS"

No KISS and tell: Gene Simmons talks about upcoming solo show in Braman

Interview mit Kiss: "Wir tun Dinge, die andere Bands nicht tun"

AUSLAUFENDE AUKTIONEN AUF EBAY
Wie jeden Samstag kurz vor 12 Uhr gibt es hier wieder Links zu einigen interessanten auslaufenden Kiss-Auktionen auf eBay:

Gene Kugelschreiber




Phantom Ticket




Kiss Army kit




Rucksack




El mito Kiss Special




Lunchbox & Thermos




KISS PRE-SHOW PARTY IN WIEN AM 19.5.2017
Christoph Löger, der KISS-Freak vom ÖAMTC, hostet am 19.5 in Wien als DJ wieder eine Pre-Show-KISS-Nacht.
Was es geben wird: Best-of-Hardrock (laut!) mit mindestens jeder dritten Nummer von KISS – all night long.
Plus special cheap drinks (Cold Gin-shots) und rare Videos on big screen – bis 5 Uhr früh. Rauchen erlaubt.
Wo? Das Jetzt, Parhamerplatz 16, 1170 Vienna Rock City.
[Deine Meinung]

23. März 2017
Katey Sagal Opens Up About Affair with Gene Simmons, Says He Helped Boost Her Career

Giving her a big Kiss! Gene Simmons locks lips with wife Shannon as he attends Power Rangers premiere with daughter Shannon and son Nick

Gene Simmons On Idea Of KISS Continuing Without Original Members

Die Special Guests jetzt auch auf dem Tourposter für Frankfurt
[Deine Meinung]

22. März 2017
Guitarist Adam Bomb Recalls His Audition for Kiss

'Married With Children' Star Katey Segal Says Gene Simmons Laughed at the Idea of Marrying Her

KISS-PLAKATE IN WIEN
Für die Wiener Radiostation 88.6 läuft gerade eine Werbekampagne. Im Zuge dieser werden sowohl halb- als auch ganzseitige Werbungen in diversen Zeitschriften geschalten. Dazu kommen noch riesige Werbeplake in diversen Größen, die in ganz Wien plakatiert wurden.



Vampirella Rocks with KISS in KISS/Vampirella this June

KISS TEAMING UP WITH VAMPIRELLA IN NEW COMIC BOOK MINI-SERIES; ARTWORK REVEALED

KISS and Vampirella Join Forces in an Upcoming Horror Comic
[Deine Meinung]

21. März 2017
Gene Simmons spielt jetzt ohne Kiss und verneigt sich bei erstem Solo-Auftritt vor Chuck Berry

Three Sides Of The Coin Podcast #221: Being a KISS fan and how our friends and family feel

INTERESSANTE BEENDETE KISS AUKTIONEN AUF EBAY
Woche für Woche ist es spannend zu sehen, für welche Summen so manche Artikel weggegangen sind. Hier wieder eine Zusammenfassung der interessantesten beendeten Kiss Auktionen letzter Woche auf eBay:

Ace Frehley Puppe aus Kanada: $ 750,-




Set Bierkrüge: $ 536,-




"Rock and Roll Over" Picture Disc: $ 500,-




Eric Carr Drumstick: $ 449,-




T-Shirt: $ 500,-




Plattenspieler: $ 400,-




New York Dolls/Kiss Konzertposter: $ 400,-




Kiss Symphony Tourbuch: $ 309,-




"Rise to it" Single aus Australien: € 222,-




Mehr interessante beendete Kiss Auktionen: siehe weiter oben
die teuersten beendeten
Auktionen >>
most interesting
Auctions >>
.

KISS' Gene Simmons to headline music festival in Braman
[Deine Meinung]

20. März 2017
Adam Bomb: The day I auditioned for Kiss

Guns N' Roses-, Kiss- und Judas-Priest-Mitglieder reagieren auf den Tod von Chuck Berry

Gene Simmons' special KISS for Perth bride

GENE SIMMONS PAYS TRIBUTE TO CHUCK BERRY AT CLEVELAND SOLO SHOW; FAN-FILMED VIDEO OF "JOHNNY B. GOODE" COVER POSTED

KISS co-founder Gene Simmons at Wizard World Comic Con
[Deine Meinung]

19. März 2017
NEUES SHAMELESS-ALBUM MIT ERIC SINGER
Am 7. April erscheint endlich der neue Shameless Release auf CD und erstmalig auf Vinyl. Auf der Vinyl Version sind 3 Songs mit KISS Drummer Eric Singer zu hören.
Im April spielt die Band 2 Shows in Deutschland und zwar am 6. April in München in der Garage Deluxe und am 7. April in Lichtenfels im Paunchy Cats.

Vinyl und CD kann man jetzt schon im offiziellen Shameless Store vorbestellen: http://shamelessonline.storenvy.com
Bei Amazon kann man in das Album reinhören:


GENE SIMMONS Pays Tribute To CHUCK BERRY With 'Johnny B. Goode' Performance In Cleveland (Video)

Gene Simmons Pays Tribute to Chuck Berry at First-Ever Solo Concert

Gene Simmons Setlist at The Agora, Cleveland, OH, USA , 18.3.2017

Videos: Gene Simmons live at The Agora, Cleveland, OH, USA , 18.3.2017

Video: Eine Rampensau und Selfies live auf der Bühne: Gene Simmons "Rock and Roll All Night" live in Cleveland 2017
[Deine Meinung]

18. März 2017
When KISS brought the thunder to The Summit in Houston in 1976

AUSLAUFENDE AUKTIONEN AUF EBAY
Wie jeden Samstag kurz vor 12 Uhr gibt es hier wieder Links zu einigen interessanten auslaufenden Kiss-Auktionen auf eBay:

Super Poster 8/1978




Super Poster 6/1978




Super Poster 4/1978




Konzertposter 1980




Lunchbox & Thermos




Weste & Hemd




Set Bierkrüge



[Deine Meinung]

17. März 2017
Audio: Eddie Trunk on Paul Stanley's Soul Station 3.9.2017 (Kiss)

KISS - INDIANAPOLIS FAN EXPO 2017 CONFIRMS APPEARANCES BY ERIC SINGER AND BRUCE KULICK

Audio: Producer Bob Ezrin on KISS's 'Destroyer' -- TRUNK NATION w/Eddie Trunk, SiriusXM's VOLUME
[Deine Meinung]

16. März 2017
Become a Speed Demon with Sciacallo's KISS Triathlon Bike

2017 Indy KISS Fan Expo on April 15th with Eric Singer, Bruce Kulick & Bob Kulick

Kiss: Peter Criss beendet seine Bühnenkarriere

Kommt Ace Frehley zurück zu KISS?

Bruce Kulick: Explaining the petrifying, intimidating genius of Eddie Van Halen

PODCAST ROCK CITY -Episode 145- Creatures of The Night vs. Lick It Up!
[Deine Meinung]

15. März 2017
PETER CRISS – ORIGINAL KISS DRUMMER ANNOUNCES LAST LIVE U.S., AUSTRALIA PERFORMANCES

Peter Criss Plans Last U.S. Live Performance

Original KISS Drummer PETER CRISS Announces 'Last' Live Performances In USA, Australia

Peter Criss Announces 'Final Live Performance in the U.S.A.'

New York KISS Expo w/Peter Criss, Australia KISS Convention w/Peter Criss

PodKISSt #132 Gene Live! Phil Shouse
[Deine Meinung]

14. März 2017
Gene Simmons will celebrate geek side at Wizard World Cleveland, rock Agora

KISS frontman Gene Simmons coming to Wizard World 2017 in Cleveland this week (photos)

In Extremo freuen sich auf Kiss in Frankfurt

Three Sides Of The Coin Podcast #220: A Day In The Life of Three Sides of the Coin, Welcome to the Psycho Circus

INTERESSANTE BEENDETE KISS AUKTIONEN AUF EBAY
Woche für Woche ist es spannend zu sehen, für welche Summen so manche Artikel weggegangen sind. Hier wieder eine Zusammenfassung der interessantesten beendeten Kiss Auktionen letzter Woche auf eBay:

Ace Frehley Kostüm: $ 1.800,-




Gene Simmons Asylum Kostüm: $ 3.000,-




Peter Criss Alive Worldwide Kostüm: $ 3.200,-




Paul Stanley Alive Worldwide Kostüm: $ 3.400,-




Ace Frehley Jacke: $ 3.200,-




Roadcase: $ 1.100,-




Kiss LP Erstpressung: $ 548,-




Eric Carr Drumstick: $ 446,-




Kissteria Vinyl Roadcase: $ 1.450,-




Mehr interessante beendete Kiss Auktionen: siehe weiter oben
die teuersten beendeten
Auktionen >>
most interesting
Auctions >>
.

PETER CRISS - ONE LAST TIME 12.5.2017, MELBOURNE, AUSTRALIA (Peter and his star studded band including Angel from the CRISS band as well as the hottest musicians in Australia)

KISS rocken am 23. Mai Frankfurt
[Deine Meinung]

13. März 2017
NEW BOB KULICK ALBUM TO FEATURE GUEST APPEARANCES FROM DEE SNIDER, RUDY SARZO, VINNY APPICE, FRANKIE BANALI, ERIC SINGER AND MORE

KISS, TWISTED SISTER, Ex-BLACK SABBATH Members To Guest On BOB KULICK's Solo Album

Watch as Kiss Defy City Pyro Ban By Setting Off All Their Explosives in Just 30 Seconds
[Deine Meinung]

12. März 2017
KISS 1977 - 1980
(von Amazon)
The comprehensive story, as well as an intimate look, at the legendary band KISS at their rock-god peak, as captured by celebrated rock photographer Lynn Goldsmith.
KISS is an American arena-rock group that formed in the early 1970s in New York City and is most recognizable by their face paint and dramatic outfits. With makeup and costumes, Paul Stanley, Gene Simmons, Peter Criss, and Ace Frehley created characters and origin stories similar to comic book characters: the Starchild, the Demon, the Space Ace, and the Catman. KISS rose to meteoric prominence with their extravagant live performances, featuring fire-breathing, blood spitting, guitars bursting into flames, shooting rockets, levitating drum kits, and pyrotechnic showpieces.
Published in conjunction with the band, KISS is the definitive chronicle of one of the most popular and enduring rock bands at the height of their popularity, showcasing the band performing in arenas and behind the scenes offstage—in both unguarded candids and glamour portraits.
The book contains a wealth of never-before-seen and previously unpublished photographs and new interviews with Gene Simmons and Paul Stanley, all bound into an artful, insider's view of the band.


KISS EMOJI KEYBOARD APP AVAILABLE FOR APPLE AND ANDROID USERS

KISS FRONTMAN PAUL STANLEY ON WORKING WITH SOUL STATION - "IT'S A LUXURY AND A BLESSING"

Videos: Ace Frehley live at Pabellón Cuervo, Mexico City, Mexico, 11.3.2017

Ace Frehley Setlist at Pabellón Cuervo, Mexico City, Mexico, 11.3.2017

Paul Stanley and Soul Station Wonderful at Sayers Club Hollywood
[Deine Meinung]

11. März 2017
THE KISS ROOM - MARCH 10 2017

Videos: Ace Frehley live at Escena, Monterrey, Mexico, 10.3.2017

Ace Frehley Setlist at Escena, Monterrey, Mexico, 10.3.2017

Set to Appear at Wizard World and Perform at the Agora, KISS' Gene Simmons Discusses His Love of Comic Books

Kiss' Paul Stanley Gets Soulful With New Project

AUSLAUFENDE AUKTIONEN AUF EBAY
Wie jeden Samstag kurz vor 12 Uhr gibt es hier wieder Links zu einigen interessanten auslaufenden Kiss-Auktionen auf eBay:

erstes Tourbuch 1976



Kiss Kruise V Merchandise (über 40 Artikel)




Kiss Kruise VI Merchandise (über 50 Artikel)




Kiss Kruise IV Merchandise (über 40 Artikel)




Set Halloween Kostüme




Kostümteile







Roadcase



[Deine Meinung]